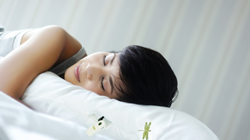 While most sleep technology products on the market today just measure your sleep, the Dreampad can actually help you fall and stay asleep.

Denver, Colo. (PRWEB)
October 11, 2016
Released four years ago as a clinical pediatric product to help children with high levels of anxiety become more relaxed and sleep better, the Dreampad has been completely redesigned for the general sleep market and is now available on the crowdfunding website Kickstarter.
"We created the Dreampad as a therapeutic tool to calm children with high levels of anxiety, such as those with trauma and autism," said Randall Redfield, creator of the Dreampad and Co-founder & CEO of Integrated Listening Systems.
"Their…