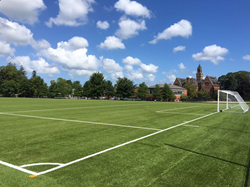 We decided to install Shaw Sports Turf because we wanted a surface we could use in all weather conditions, throughout the year, that wouldn't deteriorate.

Braintree, Massachusetts (PRWEB)
October 04, 2016
Supported in part by the Upper School Senior Legacy Project, Thayer Academy is already enjoying their two new turf fields to be used primarily for field hockey, soccer, lacrosse, and baseball. One field will also be used for football practices.
In need of a surface that would offer greater flexibility, the school looked to artificial turf.
"We decided to install Shaw Sports Turf because we wanted a surface we could use in all weather conditions, throughout the year, that…