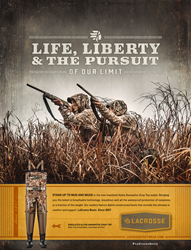 Shine really understands our brand and our consumer, and as a result, they have built messaging that not only speaks to the great folks who wear our boots but it also connects with them on an emotional level.

Madison, Wisconsin (PRWEB)
October 11, 2016
Shine United and LaCrosse Footwear have partnered to develop and launch a new brand campaign that pays tribute to the hard-working people that have defined the "LaCrosse family" since 1897. Launched in July 2016, the new advertising campaign is a culmination of brand strategy and target research conducted by Shine United to refine the LaCrosse Footwear brand messaging.
"I have a deep respect and admiration for the people who wear our boots…