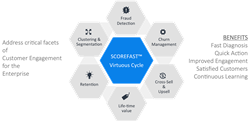 Comprehensive centralized model management with version control means less duplication, more collaboration, and simpler diagnosis as model performance decays over time," said Vas Bhandarkar, CEO of ScoreData Corporation.

Palo Alto, California (PRWEB)
August 31, 2016
ScoreData today announced that it has been selected to [the Hewlett Packard Enterprise (HPE) Big Data Technology Alliance Program, a powerful ecosystem of players that add value to the HPE Big Data Platform. ScoreFast is now available via the HPE Big Data Marketplace.
The ScoreFast and Vertica combination allows customers to:

Extract data from Vertica, and build Predictive…