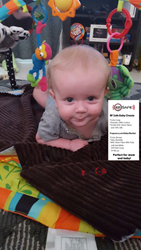 It's critical to take the neccessary steps to protect your child's developing brain.

Palo, Alto, CA (PRWEB)
October 10, 2016
RF Safe's mission to raise awareness to parents on the effects of microwave radiation and children has inspired the new RF Safe Baby Onesie and Crib Canopy.
Doctors said early studies provide enough evidence to suggest that parents should take caution with cell phone radiation and children.
"Even though the cell phone manual contains specific instructions that say do not carry the phone next to the body, the US government does not publicize this information nor mandate companies inform the public,…