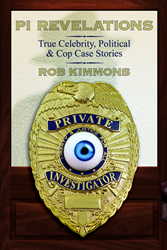 "I was personally and professionally involved in many of the case stories in this book and can attest that they're all true and unvarnished." Michael O'Brien, attorney and past Harris County District Judge.

Houston, Texas (PRWEB)
October 11, 2016
Rob Kimmons, of Kimmons Investigative Services, Inc., has released his new book, PI Revelations: True Celebrity, Political and Cop Case Stories. The book reveals behind-the-scenes facts in some major nationally covered cases and events.
The file cabinets of Kimmons Investigative Services, one of the largest PI firms in Texas, were recently cracked open and Rob's memory tapped to bring to life details…