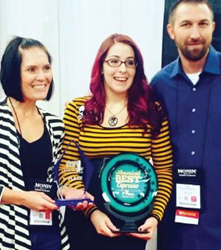 Los Angeles, CA (PRWEB)
October 11, 2016
Last weekend, coffee lovers converged in Anaheim, California to compete for America's Best Espresso and America's Best Cold Brew. Klatch Coffee took home the top prize in both categories with an unprecedented double victory.
28 of the top roasters in the country competed for the title of America's Best Espresso, which starts with going head-to-head in an intense, single elimination bracket competition. The winning espresso used by Klatch is a two bean blend from Best of Panama winner Wilford Lamastus at Elida Estate.
This event also hosted the inaugural America's Best Cold Brew Competition where 32 roasters competed in a similar single elimination bracket…