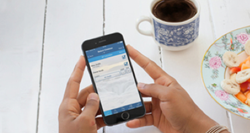 Families can start check-in where and how they prefer via their mobile device, with child name badges and guardian receipts set to print upon arrival at a facility using KidCheck.

Boise, Idaho (PRWEB)
October 11, 2016
KidCheck is pleased to introduce the new Express Check-In feature as part of its secure children's check-in solution. Express Check-In takes mobile check-in to a whole new level. KidCheck is first to market with an end-to-end children's check-in solution for organizations which allows attending families to check-in and print labels from their personal mobile device.
Organizations using KidCheck's check-in software…