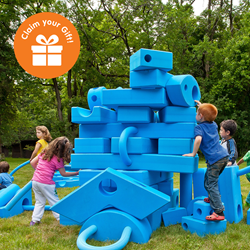 Gift of Play enabled our school to be able to purchase the Big Block set for the students at our STEM school.

New York, NY (PRWEB)
October 11, 2016
Imagination Playground, LLC, http://www.imaginationplayground.com, creators of the breakthrough play space concept that encourages child-directed, unstructured free play, announced today that 255 schools have benefited from their Gift of Play program so far in 2016. Gift of Play offers financial assistance to the many schools that dearly want to bring a set of Imagination Playground Big Blue Blocks to their children, but are unable to do so without help.
Imagination Playground first launched Gift of Play in 2015, after receiving feedback from…