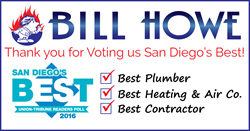 We feel that training and education are important to San Diego, and we want to empower our team to be the best, and deliver the highest quality of service to our customers.

San Diego, CA (PRWEB)
October 11, 2016
Bill Howe Plumbing in San Diego has grown into one for the largest family-owned and operated service and repair companies in the community. For over 35 years, they have focused on their commitment to training their field team and develop the highest quality for their customers.
The…