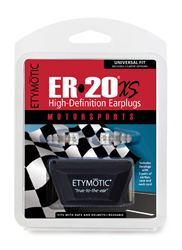 The recently released ER20®•XS High Fidelity Earplugs feature a lower profile design that makes them particularly comfortable to wear under hats, helmets and other headgear.

Elk Grove Village, IL (PRWEB)
October 10, 2016
Motorsports participants and fans expect noise—and lots of it—at the racetrack. Although expected, the noise can be downright uncomfortable and result in hearing loss and tinnitus (ringing in the ears) for drivers and fans. Typical earplugs and earmuffs make things sound muffled and unclear. Enter Etymotic's high-fidelity earplugs, ETY•Plugs® and ER20®•XS.
These…