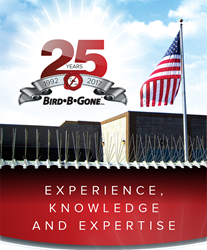 The company now offers everything from its flagship Stainless Steel Bird Spikes to the latest in Laser Bird Deterrent technology.

Irvine, CA (PRWEB)
October 11, 2016
Celebrating a quarter century of service, Bird B Gone will showcase its expanded lineup of bird control products, services and support capabilities at Pestworld 2016 on October 18-21, Booth 800 at the Washington Convention Center/Sheraton Seattle Hotel, Seattle, WA.
As part of its 25th Anniversary celebration at the NPMA show, Bird B Gone will offer special discounts, increased support and training, along with some special events coming to cities all over the country.
Founded by…